Today's post is brought to you from Stacey of PositivelyStacey. I am so excited to have Stacey share one of her great posts. I think you will love it. Make sure you take a few minutes to stop by and see what she is up to!
When people think of celebrating a special occasion or planning a special date night – most people tend to plan a night out at a special restaurant. While I am the first to agree that sometimes it is nice to get out of the kitchen, I also believe that sometimes it is equally wonderful to plan your own special dinner in!
A special dinner in can be completely personalized and it definitely is easier on the pocket book!
I was thrilled to have the opportunity to talk with Laura Vitale a self-taught home-cook and the host of an interactive YouTube cooking show called "Laura in the Kitchen" and the host of "Simply Laura" on the Cooking Channel. She was here to share with me and my readers an easy and delicious romantic dinner at home! If you have ever seen her show, you know just how engaging Laura is as she takes us through wonderful recipe after wonderful recipe. And if you haven't seen her show? Get on over to YouTube and check out her channel!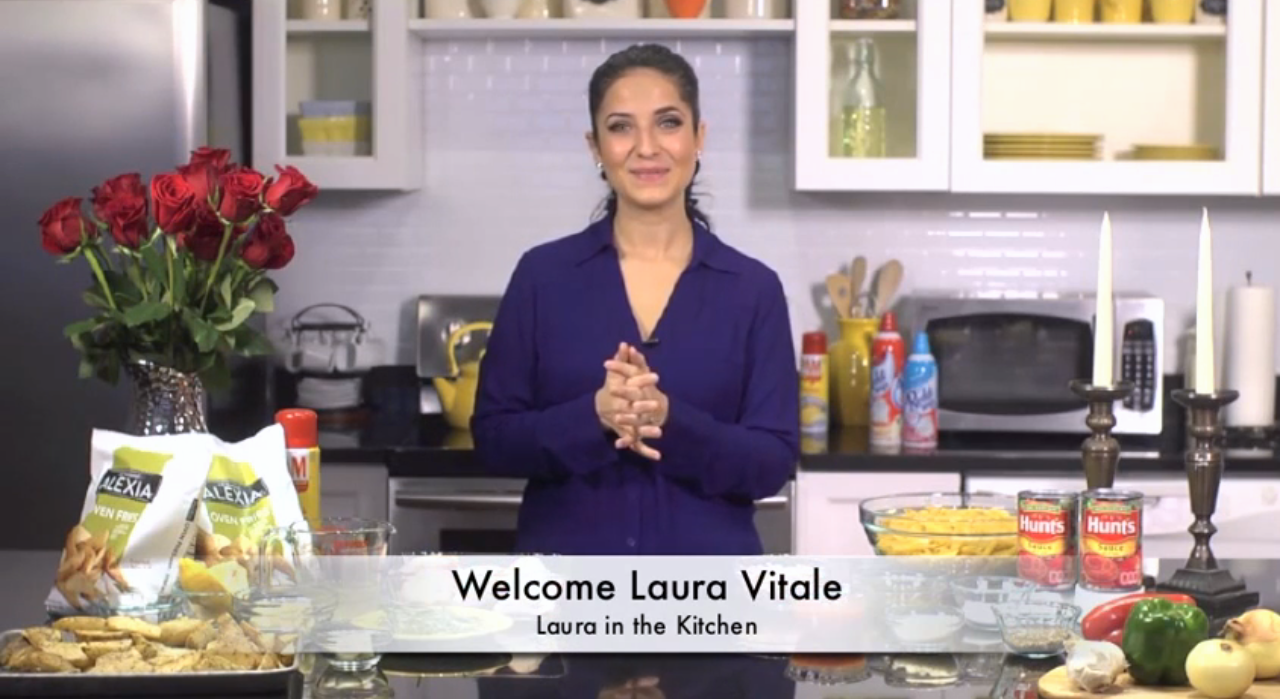 Laura spent time with me the other day to share a very easy, yet very romantic, dinner fora date night or any other special occassion dinner. As I said in my post, Five Date Night Ideas, not all date nights need to be spent out of the home. Sometimes the best date night is having a night in. Stay-at-home dates can be as romantic as time spent in any special setting, as long you take the time to set the scene using creative ideas and preparing a meal intended to woo your sweetheart. Light candles in the entrance of your home as a surprise. Set the table with a tablecloth, cloth napkins, nice dinnerware, crystal, and flowers. Also, choose the wine and soft music you want to listen to ahead of time and have it playing in the background.
Now, it's time to decide on your romantic dinner menu, wine and cocktail pairings and dessert. Laura is here to share with you a simple yet delicious dinner menu.
I love to set a pretty table. It shows that we have gone the little bit of extra to create a special meal with the ones we love. What do you do to make a special occasion? I'd also love to hear what is one of your favorite menu items for a special night in?
I am a lover of great food, gardening, quilting and all things that make my house a home.