I am so excited to introduce you to a new blogging friend! Stacey from Positively Stacey agreed to share some great information with all of you today. Please give her a warm welcome. I am so happy she is here.
Hi, I am Stacey of Positively Stacey and I am very happy to be a guest blogger on Cynthia's Feeding Big. Cynthia and I have a few things in common beyond that we fall in the same age bracket 🙂 We both love to shower our families with yummy nutritious food without breaking the bank.
The readers of PositivelyStacey.com followed me along on a one month experiment last year where I wanted to see if it is possible to feed a family of four nutritious and delicious food on a total food budget of $632 for the month. That breaks down to $21.06 a day. I have a husband with a big appetite and two growing teenagers in the house – they are all big eaters. My step-son at 17 is a bottomless pit! Not a lot of money to feed this family of four people breakfast, lunch, and dinner.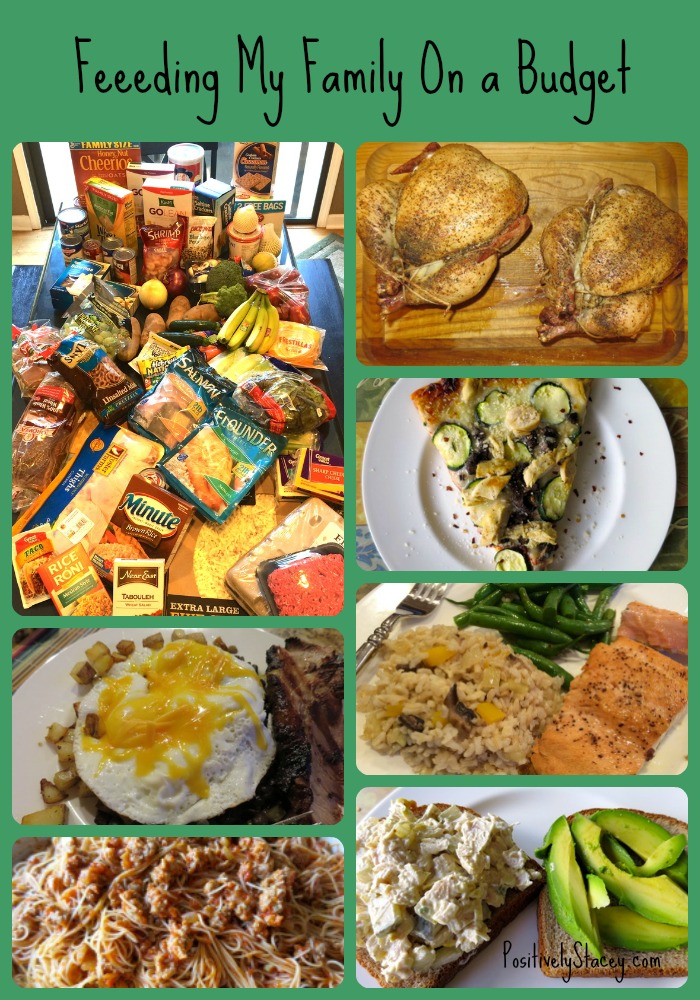 But I did it!
What did I learn?
Shop first. Plan second. I am a huge menu planner. Like you, I am really busy and I don't have the time to be running to the grocery store multiple times during the week. I usually write up a week menu plan and then build my shopping list. This experiment had me doing this backwards. My shopping was not determined by what was on my menu plan. Rather my menu plan was determined after I went shopping. It was important to find the best deals first and then build my meals from what I could buy. I always started with the proteins. Looking for the best prices and checking out what was on sale. I spent most of my money the first week because I bought large quantities of proteins. When I got the groceries home I sorted, divided, and froze a lot for later in the month.
Use it all up. Left overs were all eaten up! I cooked large batches of food with the intent of using the food in a different way the following day. Roasted chicken for dinner one night, then chicken and veggie burritos another night, and chicken topped pizza later in the week.
Prepare everything. Convience is really a great thing, but it most definitely comes at a cost! Tossing a large bag of mini carrots into the shopping cart is so much easier than peeling and chopping a bunch of carrots. But it is considerably cheaper to cut, chop, dice, and slice all of your own produce. The same goes for dairy! My family loves yogurt – so I bought the large containers. Scooping it into a smaller container for lunch takes a bit more time. I quite buying any sliced or shredded cheese. I bought large blocks of cheese and sliced or shredded as needed.
Get Creative. I did not way to rely on a lot of carbohydrates to get us through the month. Alhough my kids would have been happy with a month of pasta and potatoes, I wanted the menu to be varied, fresh, and appealing. This required me to dig up and try a few new recipes. I found a couple new recipes from Melissa d'Arabian from Ten Dollar Meals.
Sautéed peppers, onions, and garlic add a lot of flavor for not a lot of money. I was surprised at how many onions I used during the month. This along with sautéed peppers and garlic added flavor to a lot of dishes!
Don't eat out. My goal was to retain a high level of nutrition so I did not rely on fast food establishments for dinner. But even if we had – that would have been more expensive that preparing a meal at home. You can feed your family a nutritious dinner far cheaper than what the dollar menus offer at your local drive-thru. In order to stay within our budget – we did not eat out. One caveat that I address in the first and last post regarding this experiment – My husband did eat lunch out every work day. I cover more about that in my posts where I break done the cost and meal counts.
So what does this experiment tell me? Well, pretty much it says that I can feed my family healthy and tasty meals on $632 for a month. Does that mean that everyone can? No. I realize my results are a product of what I have available to me and my ability to plan, store, and prepare food. Making this work came at a cost – I lost convenience, and as many families know – time is precious! At the end of the day we are all tired and hungry! Believe me, there were a few nights that I would have loved for us to head out to dinner or at least head to the local taqueria for a meal not prepared by me.
That being said, it was a lot easier than I thought. I saved a considerable amount of money and had control over my families nutrition. It could have been healthier, but I feel like we did a good job! I know there are plenty of families that feed their families on even less. But with my group of hungry eaters, I was very please with our results.
It's only fair to let you know that my entire family was celebrating the end of the month. I felt like the month of meals went really well. They felt deprived. I'm still a little befuddled by their sentiment – I even bought them a few treats – cookies and chips. But that was their honest feedback.
If you want to read more about Feeding My Family on A Budget , it is a five post series with menus and recipes, you can start with what prompted the experiment: Hunger in America: Feeding a Family on a Budget.
One of our favorite budget meals:

Joe's Special
INGREDIENTS
2 tbsp. olive oil
5 cloves garlic, minced
1 medium yellow onion, finely chopped
8 oz. ground beef
1 (10-oz.) package frozen chopped spinach, thawed and squeezed dry in paper towels
8 eggs, lightly beaten
Kosher salt and freshly ground black pepper, to taste
¼ cup finely grated Parmesan
DIRECTIONS
Heat oil in a 12″ skillet over medium-high heat.
Add garlic and onion; cook until soft, about 5 minutes.
Add ground beef; cook, stirring, until browned, about 10 minutes. Drain fat.
Add spinach; cook until heated through, about 2 minutes.
Add eggs; cook until eggs are cooked and mixture is slightly dry, about 4 minutes.
Season with salt and pepper; sprinkle with Parmesan.Serves four
Serve with crusty Italian bread.This dish is perfect the way it is. But when my family is extra hungry, I will throw in a few more eggs, or serve with a side of fresh cut melon.
What do you do to stretch your family grocery budget? I'd love to know what favorite budget meals you prepare.
I think Stacey did such a great job of feeding her family on a budget. What do you think? Leave a comment and tell me what it cost to feed your family each month.
I am a lover of great food, gardening, quilting and all things that make my house a home.