I am so happy to have Audrey from That Recipe, share a great recipe with all of you. I have known her for a long time and drooled over many of her recipes. I know you will feel the same way.
My name is Audrey and I am the "Editor in Chef" over at That Recipe, a site dedicated to good friends and good food. We have recipes for all tastes and diets and would love for you to stop by for a visit.
Caramel Apples are one of those happy fun Autumn things I look forward to every year. But, my 7 year old is currently missing a front tooth (soon to be two). And then there is the sticky mess for me to deal with afterwards.
This Caramel Apple Snack Cake combines those fabulous flavors in a whole grain, low fat snack cake that is so delicious no one will notice it is healthy.
With the yogurt, applesauce and grated apples in the cake, it is incredibly moist. And the whole wheat flour is perfect for a snack cake, which should be a bit dense.
Yes, I use sugar in the recipe, but only a half cup. I really wanted the top to have that beautiful brown color that is only possible with sugar. And the caramel sauce may be a bit indulgent, but it is limited to a small amount and drizzled on top for maximum impact.
The cake is fabulous plain, or you could top it with the Whipped Yogurt Cream recipe below, or some ice cream or more caramel sauce if desired.
Caramel Apple Snack Cake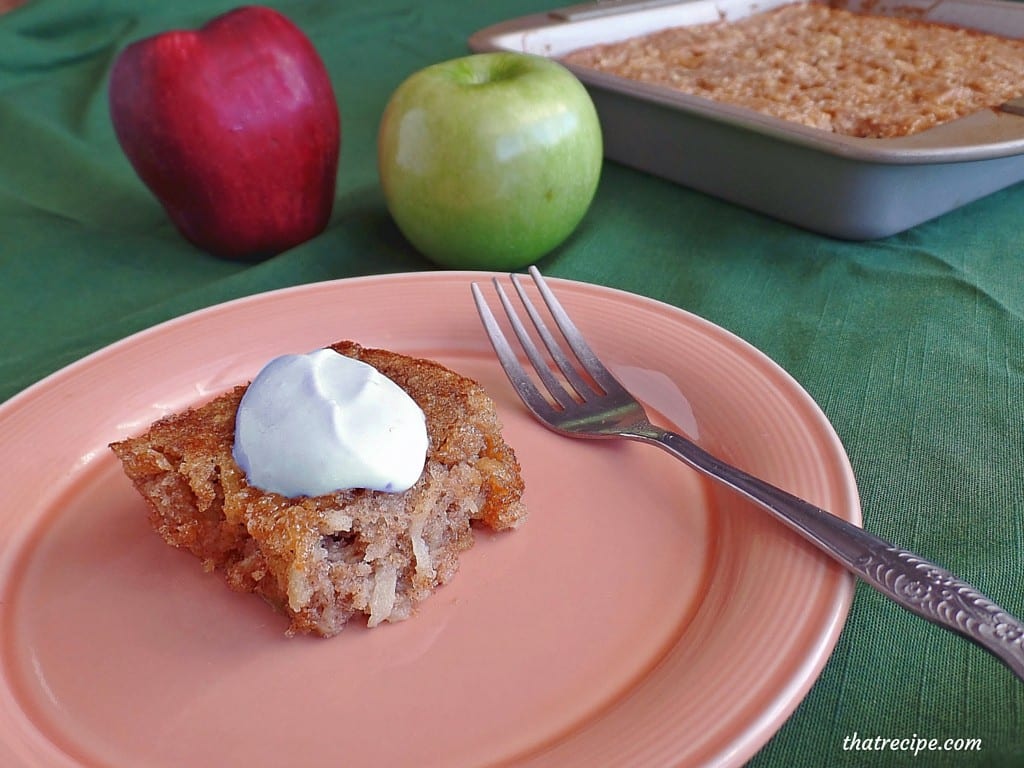 Ingredients
1

cup whole-wheat flour

1/2

cup granulated sugar

3/4

teaspoon baking powder

3/4

teaspoon baking soda

3/4

teaspoon ground cinnamon

1/2

cup applesauce

1/2

cup plain Greek yogurt
1/

4 cup canola oil

1

large large egg
2 apples, peeled and grated (approximately 1.5 to 2 cups of grated apple)

4 ounces caramel sauce (approximately 15 caramel candies melted with a tablespoon of milk)
Directions
Heat oven to 350° F. Spray a 9-inch baking dish with non-stick spray.
In a medium bowl, whisk together the flour, sugar, baking powder, baking soda, and cinnamon; set aside.
In another bowl (or large measuring cup) combine the applesauce, yogurt, oil, and egg and mix to combine.
Add applesauce mixture and grated apples to the dry ingredients and stir until just combined.
Pour batter into prepared pan.
Spoon the caramel sauce on the top of the batter (it doesn't have to be perfect).
Bake until a toothpick inserted in the center comes clean, 20 to 30 minutes.
Serve with Yogurt Whipped Cream (below) or ice cream, if desired.
Yogurt Whipped Cream
Ingredients
1/4 cup Greek yogurt

2 tablespoons heavy whipping cream

1 1/2 teaspoons packed brown sugar

1/4 teaspoon cinnamon (optional)
Directions
Combine all ingredients in a small bowl and whip until soft peaks form.
---
My son and I polished of a quarter of the cake and wisely packed up the rest to take to his teacher and aide before we devoured the rest. And we got a few hugs when we delivered our basket of goodies.
It made a great after school snack and would be great for dessert or even breakfast.
Happy Eating!
I am a lover of great food, gardening, quilting and all things that make my house a home.